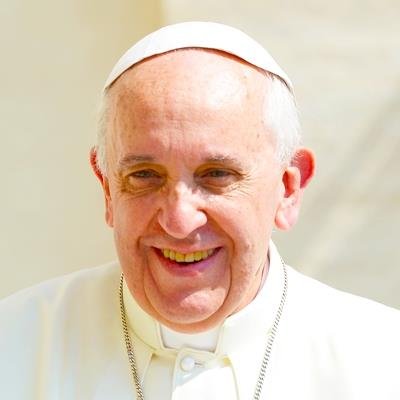 07.12.2016 - Kirken ikke vokser ved proselytisme, men ved tiltrækning. (EG 14)
20.11.2016 - We entrust the life of the Church, all humanity, and the entire cosmos to the Lord, asking him to pour out his mercy upon us.
15.09.2016 - The Church is called to walk with Jesus on the roads of the world, in order to meet the humanity of today.
14.09.2016 - The Church's forgiveness must be every bit as broad as that offered by Jesus on the Cross and by Mary at his feet.
17.04.2016 - Each vocation in the Church has its origin in the compassionate gaze of Jesus, who forgives us and calls us to follow Him.
12.04.2016 - The way of the Church is not to condemn anyone for ever, it is to pour out the balm of God's mercy.
12.04.2016 - The Church must pattern her behavior after the Son of God who went out to everyone without exception.
12.04.2016 - To understand, forgive, accompany and integrate. That is the mindset which should prevail in the Church.
11.04.2016 - The divorced who have entered a new union should be made to feel part of the Church. They are not excommunicated.
08.04.2016 - The Joy of Love experienced by families is also the joy of the Church.
18.03.2016 - The greater the sin, the greater the love that must be shown by the Church to those who repent.
17.03.2016 - No one can be excluded from the mercy of God. The Church is the house where everyone is welcomed and no one is rejected.
21.07.2015 - The Church is called to be ever more attentive and caring toward the weak.
27.06.2015 - The Church is a mother with an open heart, ready to help all people, especially those who try the hardest.
13.06.2015 - Today the Church is a Church of martyrs, so many heroic witnesses. May we learn from their courage.
16.05.2015 - It is better to have a Church that is wounded but out in the streets than a Church that is sick because it is closed in on itself.
16.01.2015 - The Philippines bear witness to the youthfulness and vitality of the Church.
02.12.2014 - The Church is called to draw near to every person, beginning with the poorest and those who suffer.
08.11.2014 - The Church is ever on a journey, seeking new ways to announce the Gospel.
30.10.2014 - The principal mission of the Church is evangelization, bringing the Good News to everyone.
17.08.2014 - Let us pray that the Church be holier and more humble, loving God by serving the poor, the lonely and the sick.
26.11.2013 - The Church is missionary. Christ sends us forth to bring the joy of the Gospel to the whole world.


<>
Hierarkiet og hellige Moder