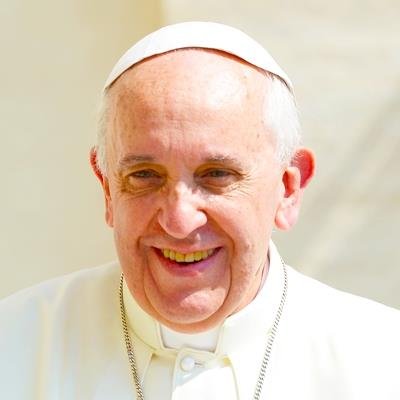 30.03.2017 - Prayer is powerful. Prayer conquers evil. Prayer brings peace.
14.03.2017 - Let us pray for one another so that we may open our doors to the weak and poor.
28.02.2017 - Prayer is the key that opens God's merciful heart.
26.02.2017 - I invite you to persevere in prayer, so that Jesus' wish may be fulfilled: "that they may all be one".
03.02.2017 - Let us never forget to pray for each another. Prayer is our greatest strength.
30.01.2017 - Nothing is impossible if we turn to God in prayer. We can all be builders of peace.
21.11.2016 - Let us remember with gratitude the cloistered and monastic religious who pray for the Church and the world.
15.10.2016 - Today St Teresa of Ávila invites us to pray more in order to be closer to God and to improve our lives.
07.10.2016 - The Rosary is a prayer which always accompanies me. It's also the prayer of ordinary people and the saints...and a prayer from my heart.
28.08.2016 - An easy prayer to say every day: "Lord, I am a sinner: come with your mercy".
18.08.2016 - Never abbandon prayer, even when it seems pointless to pray.
17.06.2016 - In prayer let us experience the compassion of God, full of merciful love.
11.06.2016 - Do not tire of asking in prayer for the Lord's help especially in difficulty.
16.02.2016 - We learn how to pray, just as we do to walk, speak and listen. If you tell me how you pray, I can tell you how you live.
15.11.2015 - I am happy to pray today with the Lutheran community in Rome. May God bless all who work for dialogue and Christian unity.
28.02.2015 - Jesus intercedes for us each day. Let us pray: Lord, have mercy on me; intercede for me!
26.12.2014 - Let us pray today for all those who are persecuted for their Christian faith.
04.10.2014 - As Jesus told Martha in the Gospel, one thing is necessary: prayer.
10.08.2014 - An appeal to all families: when you say your prayers, remember all those forced from their homes in Iraq.
31.07.2014 - May each family rediscover family prayer, which helps to bring about mutual understanding and forgiveness.
28.06.2014 - To be friends with God means to pray with simplicity, like children talking to their parents.
07.06.2014 - Prayer is all-powerful. Let us use it to bring peace to the Middle East and peace to the world.
06.06.2014 - Peace is a gift of God, but requires our efforts. Let us be people of peace in prayer and deed!
19.05.2014 - The one who listens attentively to the Word of God and truly prays, always asks the Lord: what is your will for me?
17.05.2014 - The month of May, dedicated to Mary, is a fitting time to begin to recite the rosary daily.
01.04.2014 - Dear parents, teach your children to pray. Pray with them!
06.03.2014 - Let us pray for Christians who are victims of persecution, so that they may know how to respond to evil with good.
18.02.2014 - Let us learn from Christ how to pray, to forgive, to sow peace, and to be near those in need.
15.02.2014 - Let us pray for peace in Africa, especially in the Central African Republic and in South Sudan.
13.02.2014 - Let us pray for seminarians, that they may listen to the voice of the Lord and follow it with courage and joy.
28.01.2014 - Let us pray for Christian unity. There are so many beautiful things which unite us!
17.01.2014 - How powerful prayer is! May we never lose the courage to say: Lord, give us your peace.
16.01.2014 - Let us pray for peace, and let us bring it about, starting in our own homes!
26.12.2013 - Before the Nativity scene, may we pray in a particular way for those suffering persecution for the faith.
16.12.2013 - We cannot resign ourselves to think of a Middle East without Christians. Let us pray every day for peace.
13.12.2013 - Don't be afraid to go to the Sacrament of Confession, where you will meet Jesus who forgives you.
02.11.2013 - The fight against evil is long and difficult. It is essential to pray constantly and to be patient.
17.10.2013 - Our prayer cannot be reduced to an hour on Sundays. It is important to have a daily relationship with the Lord.
10.10.2013 - The mystery of the Cross, a mystery of love, can only be understood in prayer. Pray and weep, kneeling before the Cross.
01.10.2013 - Do we truly pray? Without an abiding relationship with God, it is difficult to live an authentic and consistent Christian life.
20.09.2013 - Christ is always faithful. Let us pray to be always faithful to him.
10.09.2013 - I thank everyone who participated in the prayer vigil and the fast for peace.
01.09.2013 - Let us pray for peace: peace in the world and in each of our hearts.
27.07.2013 - Dear young friends, learn to pray every day: this is the way to know Jesus and invite him into your lives.
25.07.2013 - The Christian life is not limited to prayer, but requires an ongoing dedication and courage born of prayer.
21.07.2013 - How many wish to be in Rio for WYD but can't! May they feel at one with us in prayer.
16.07.2013 - Prayer, humility, and charity toward all are essential in the Christian life: they are the way to holiness.
08.07.2013 - We pray for a heart which will embrace immigrants. God will judge us upon how we have treated the most needy.
06.07.2013 - The Lord speaks to us through the Scriptures and in our prayer. Let us learn to keep silence before him, as we meditate upon the Gospel.