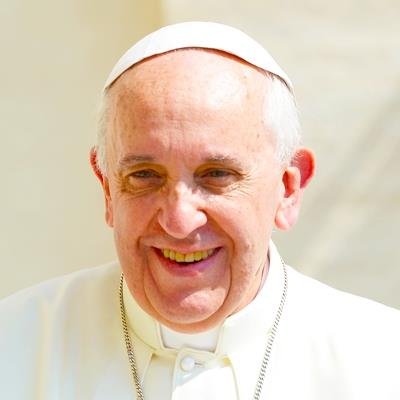 2019-10-19 - I encourage you to bring the light of the Gospel to our contemporaries. May you be witnesses of freedom and mercy, allowing fraternity and dialogue to prevail over divisions. #ExtraordinaryMissionaryMonth #MissionaryOctober
2019-06-28 - Jesus looks at us, loves us and awaits us. He is all heart and all mercy. Let us go with confidence to Jesus. He always forgives us. #SacredHeartofJesus
2019-06-02 - May you be witnesses of freedom and mercy, allowing fraternity and dialogue to prevail over divisions. #ApostolicJourney #Romania
2019-05-25 - Mercy shown to those who can only receive, without giving anything in return, is precious in the eyes of God.
2019-05-11 - This is the time of mercy; this is the time of the Lord's compassion. Let us open our hearts so that He may come to us.
2019-04-28 - If we open our hearts to mercy and we seal forgiveness with a fraternal embrace, we proclaim before the world that it is possible to overcome evil with good. #DivineMercy
2019-04-27 - The Lord seeks everyone, He wants everyone to feel the warmth of His mercy and His love.
2019-02-05 - The Beatitudes are a roadmap for our life: they invite us to keep our hearts pure, to practice meekness and justice, to be merciful to all, to live affliction in union with God. #UAE #ApostolicJourney
2018-12-29 - Bring God's tenderness and mercy to all those who are discarded by society.
2018-11-24 - None of us can survive without mercy. We all have need for forgiveness.
2018-11-09 - Where there is sin there is also the merciful Lord God who forgives if you go to Him. #SantaMarta
2018-11-08 - May the Lord help us understand the logic of the Gospel, that of mercy with bearing witness. #SantaMarta
2018-11-02 - Jesus made it so death does not have the last word: those who believe in Him will be transfigured by the Father's merciful love for an eternal and blessed life.
2018-09-30 - Sunday is the day to say to God: thank you Lord, for life, for your mercy, and for all your gifts!
2018-09-21 - If you want to reach the heart of God, take the way of mercy, and allow yourself to be treated with mercy. #SantaMarta
2018-09-13 - When I am merciful, I am a true child of the Father, because the Father is merciful. #SantaMarta
2018-05-03 - In the Cross, Jesus showed us the greatness of His love and the power of His mercy.
2018-04-19 - Mercy opens the doors of the heart because it makes us feel like we are all children of one Father.
2018-04-08 - God covers us with His mercy, He enfolds us in Christ, so that we can become instruments of His goodness.
2018-02-08 - Let us welcome victims of human trafficking, and all those fleeing from war and hunger, with a compassionate heart.
2018-01-20 - There is no better medicine to heal so many wounds than a heart capable of mercy.
2017-12-19 - Go out to meet Jesus, spend time with Him in prayer, and entrust your whole life to His merciful love.
2017-10-27 - God loves us with a love so rich in mercy that He constantly welcomes us, protects and forgives us.
2017-10-11 - Like Saint John XXIII, whom we remember today, let us witness to God's goodness and mercy before the Church and the world.
2017-09-08 - Truth is an inseparable companion of justice and mercy.
2017-09-02 - Jesus is always there with an open heart. He throws open the mercy that he has in his heart. He forgives, embraces, and understands.
2017-08-20 - We always need to rediscover God's love and mercy in order to develop our relationship with Him.
2017-08-17 - May nothing stop you from living and growing in your Heavenly Father's friendship, and from witnessing to His infinite goodness and mercy.
2017-06-24 - Mercy warms the heart and makes it sensitive to the needs of brothers and sisters with sharing and participation.
2017-06-11 - The Feast of the Most Holy Trinity invites us to be a leaven of communion, consolation and mercy.
2017-05-31 - Let us learn from the strong and helpful faith of our Mother Mary in order to become living signs of God's mercy.
2017-04-23 - Let us pray for the grace to never grow tired of drawing from the well of the Father's mercy and bringing it to the world.
2017-04-23 - God's mercy is forever; it never ends, it never runs out, it never gives up when faced with closed doors, and it never tires.
2017-04-01 - Even in the hardest and most disturbing moments, the Lord's mercy and goodness are greater than every thing.
2017-02-28 - Prayer is the key that opens God's merciful heart.
2017-02-27 - When the journey is uncertain and you fall, God, rich in mercy, will extend his hand to pick you up.
2017-01-11 - Everyone can help bring about a culture of mercy, in which no one looks at another with indifference.
2016-12-21 - Mercy gives rise to joy, because our hearts are opened to the hope of a new life.
2016-12-20 - Mercy is the concrete action of God's love that, by forgiving, transforms and changes our lives.
2016-12-19 - Nothing of what a repentant sinner places before God's mercy can be excluded from the embrace of his forgiveness.
2016-12-18 - Our joy comes from the confidence we have that the Lord is close to us with his tenderness, mercy, forgiveness and love.
2016-12-14 - Now is the time to unleash the creativity of mercy, to bring about new undertakings, the fruit of grace.
2016-11-29 - Jesus calls us to be bearers of joy and consolation as his merciful witnesses.
2016-11-28 - Mercy is not a parenthesis in the life of the Church; it constitutes her very existence, making tangible the profound truths of the Gospel.
2016-11-26 - With the close of the Jubilee, we look ahead at how to continue to experience with joy, fidelity and enthusiasm the richness of God's mercy.
2016-11-22 - How much I desire that the years to come will be full of mercy, so that every person can experience the goodness and tenderness of God!
2016-11-20 - We entrust the life of the Church, all humanity, and the entire cosmos to the Lord, asking him to pour out his mercy upon us.
2016-11-20 - May the balm of mercy reach everyone, both believers and those far away, as a sign that the Kingdom of God is already present in our midst!
2016-11-20 - Today we close the Holy Door thanking God for having granted us this extraordinary time of grace.
2016-11-20 - May the Jubilee of Mercy, which concludes today, continue to bear fruit in the hearts and works of believers.
2016-11-19 - God's mercy toward us is linked to our mercy toward our neighbour.
2016-11-18 - If you want a heart full of love, be merciful!
2016-11-17 - It is not enough to experience God's mercy in one's life; whoever receives it must also become a sign and instrument for others.
2016-11-16 - We don't have to go far or come up with grand projects to be charitable. Often the people closest to us could use our help.
2016-11-15 - If every one of us, every day, does a work of mercy, there will be a revolution in the world!
2016-11-14 - In a world which has been damaged by the virus of indifference, the works of mercy are the best antidote.
2016-11-13 - If you want to find God, seek him where he is hidden: in the neediest, the sick, the hungry, the imprisoned.
2016-11-12 - I am before the Holy Door and I ask: "Lord, help me to thrust open the door of my heart!".
2016-11-09 - May we make God's merciful love ever more evident in our world through dialogue, mutual acceptance and fraternal cooperation.
2016-10-29 - Let us abbandon a language of condemnation and embrace one of mercy.
2016-09-16 - Only those who humble themselves before the Lord can experience the greatness of his mercy.
2016-09-10 - Mercy can truly contribute to the building up of a more humane world.
2016-09-08 - To offer today's world the witness of mercy is a task from which none of us can feel exempted.
2016-09-07 - God is always moved to compassion whenever we repent.
2016-09-06 - What a great gift the Lord has given us in teaching us to forgive and in this way to touch the Father's mercy!
2016-09-04 - Let us carry Mother Teresa's smile in our hearts and give it to those whom we meet along our journey.
2016-09-03 - Let us imitate Mother Teresa who made works of mercy the guide of her life and the path towards holiness.
2016-08-31 - Serving with love and tenderness those who are in need helps us to grow in humanity.
2016-08-29 - May God's mercy towards us move us to be merciful towards our neighbors.
2016-08-28 - An easy prayer to say every day: "Lord, I am a sinner: come with your mercy".
2016-08-27 - May a powerful gust of holiness sweep through all the Americas during the Extraordinary Jubilee of Mercy!.
2016-08-21 - Mercy does not just mean being a "good person" nor is it mere sentimentality. It is the measure of our authenticity as disciples of Jesus.
2016-08-19 - Where there is love, there is also understanding and forgiveness.
2016-08-17 - Through the cross we can touch God's mercy and be touched by that mercy!
2016-08-13 - May people see the Gospel in our lives: in our generous and faithful love for Christ and our brothers and sisters.
2016-08-12 - In Confession we encounter the merciful embrace of the Father. His love always forgives.
2016-08-04 - God's forgiveness knows no limits...God looks at the heart that seeks forgiveness.
2016-06-30 - This Jubilee of mercy is a time of reconciliation for everyone.
2016-06-17 - In prayer let us experience the compassion of God, full of merciful love.
2016-06-16 - Even in the worst situation of life, God waits for me, God wants to embrace me, God expects me.
2016-05-25 - With the weapons of love, God has defeated selfishness and death. His son Jesus is the door of mercy wide open to all.
2016-05-23 - In a broken world, to communicate with mercy means to help create closeness between the children of God.
2016-05-18 - The Jubilee is the party to which Jesus invites us all, without excluding anyone.
2016-05-14 - To communicate with mercy means to help create a healthy, free and fraternal closeness among the children of God.
2016-05-11 - What we say and how we say it, our every word and gesture, ought to express God's compassion, tenderness and forgiveness for all.
2016-05-03 - Jesus Christ, the incarnation of God's mercy, out of love for us, died on the cross, and out of love he rose again from the dead.
2016-04-29 - Jesus conquered evil at the root: he is the Door of Salvation, open wide so that each person may find mercy.
2016-04-28 - Before the spiritual and moral abysses of mankind, only God's infinite mercy can bring us salvation.
2016-04-06 - The Jubilee is a year-long celebration, in which every moment becomes a chance for us to grow in holiness.
2016-04-03 - Mercy: the bridge that connects God and man, opening our hearts to the hope of being loved forever despite our sinfulness.
2016-04-02 - To be merciful means to grow in a love which is courageous, generous and real.
2016-04-01 - Passing through the Holy Door, let us put our trust in God's grace, which can change our lives.
2016-03-30 - If we open ourselves up to welcome God's mercy for ourselves, in turn we become capable of forgiveness.
2016-03-29 - Jesus shows us the real face of God, for whom power does not mean destruction but love, and for whom justice is not vengeance but mercy.
2016-03-25 - Impress, Lord, in our hearts the sentiments of faith, hope, love and sorrow for our sins.
2016-03-23 - With how much love Jesus looks at us! With how much love He heals our sinful heart! Our sins never scare Him.
2016-03-20 - Let us come to Him and let us not be afraid! Let us come to Him and say from the depths of our hearts: "Jesus, I trust in You!"
2016-03-17 - No one can be excluded from the mercy of God. The Church is the house where everyone is welcomed and no one is rejected.
2016-03-15 - God is truly "rich in mercy" and extends it abundantly upon those who appeal to Him with a sincere heart.
2016-03-14 - The Sacrament of Reconciliation allows us to draw near to the Father with trust to have the certainty of his forgiveness.
2016-03-09 - God has caressed us with his mercy. Let us bring God's tender caress to others, to those who are in need.
2016-03-08 - Small gestures of love, of tenderness, of care, make people feel that the Lord is with us. This is how the door of mercy opens.
2016-03-06 - The Jubilee of Mercy is a propitious occasion to promote in the world ways to respect life and the dignity of each person.
2016-03-04 - Jesus Christ, with his closeness and tenderness, leads sinners into the place of grace and pardon. This is the mercy of God.
2016-03-04 - Open your heart to mercy! Divine mercy is stronger than the sins of men.
2016-02-18 - Do not forget that the mercy of God is our shield and strength against injustice, destruction and oppression.
2016-02-17 - Celebrating the Jubilee of Mercy means learning how to not remain prisoners of the past. It means believing things can be different.
2016-02-17 - The mercy of Jesus embraces everyone in every part of the world: open your hearts!
2016-02-14 - Jesus is waiting for us and wants to heal our hearts of all that tears us down. He is the God who has a name: Mercy.
2016-02-08 - Entering through the Holy Door means discovering the depths of the Father's mercy, who seeks each of us personally.
2016-01-22 - In today's society, in which forgiveness is so rare, mercy is ever more important.
2016-01-05 - In Jesus of Nazareth, mercy has appeared and lives (MV 1).
2015-12-31 - Let us thank God who is merciful and ever at our side (MV 6).
2015-12-30 - No one can put limits on God's love, for he is always ready to forgive (MV 3).
2015-12-29 - The mercy of God will always be greater than any sin (MV 3).
2015-12-20 - However grave our sin, God responds with total forgiveness (MV 3).
2015-12-19 - Mercy is the path uniting God with man, for it opens the heart to the hope of an eternal love (MV 2).
2015-12-08 - May the Jubilee of Mercy bring us all closer to God's goodness and love!
2015-11-29 - The Jubilee Year of Mercy reminds us that God is waiting for us with open arms, just like the father of the prodigal son.
2015-08-18 - When we experience the merciful love of the Father, we are more able to share this joy with our neighbour.
2015-08-08 - We are all sinners. Let us be transformed by God's mercy.
2015-06-25 - In Confession, Jesus welcomes us with all our sinfulness, to give us a new heart, capable of loving as he loves.
2015-05-19 - God is always waiting for us, he always understands us, he always forgives us.
2015-05-12 - Why is it so difficult to tolerate the faults of others? Have we forgotten that Jesus bore our sins?
2015-04-30 - Amid so many problems, even grave, may we not lose our hope in the infinite mercy of God.
2015-04-25 - We Christians are called to go out of ourselves to bring the mercy and tenderness of God to all.
2015-04-23 - In the Sacraments we discover the strength to think and to act according to the Gospel.
2015-04-14 - The Lord never tires of forgiving us. It is we who get tired of asking for pardon.
2015-04-09 - Lord, give us the gift of tears, the ability to cry for our sins and so receive your forgiveness.
2015-04-03 - The Cross of Christ is not a defeat: the Cross is love and mercy.
2015-03-31 - Confession is the sacrament of the tenderness of God, his way of embracing us.
2015-03-23 - May every Church and Christian community be a place of mercy amid so much indifference.
2015-03-17 - Let us allow God to fill our hearts with his goodness and mercy.
2015-03-09 - Humility saves man: pride makes him lose his way.
2015-02-21 - Det finns ingen synd som Gud inte kan förlåta. Allt vi behöver göra är att be om förlåtelse.
2015-02-20 - The Sacraments are the manifestation of the Father's tenderness and love towards each of us.
2015-02-18 - Lord, grant us the grace to know we are sinners.
2015-02-03 - We are all sinners. We are all called to a conversion of heart.
2014-10-11 - The spiritual power of the Sacraments is boundless. With grace, we can overcome every obstacle.
2014-09-25 - Jesus understands our weaknesses and sins; and he forgives us if we allow ourselves to be forgiven.
2014-08-30 - The Lord always forgives us and walks at our side. We have to let him do that.
2014-07-10 - Do not be afraid to cast yourselves into the arms of God; whatever he asks of you, he will repay a hundredfold.
2014-02-08 - The Sacraments, especially Confession and the Eucharist, are privileged places of encountering Christ.
2013-12-13 - Don't be afraid to go to the Sacrament of Confession, where you will meet Jesus who forgives you.
2013-11-23 - The Sacraments are Jesus Christ's presence in us. So it is important for us to go to Confession and receive Holy Communion.
2013-10-21 - If we are to know the Lord, we must go to him. Listen to him in silence before the tabernacle and approach him in the Sacraments.
2013-08-07 - Genom att komma bland oss gjorde sig Jesus närvarande och han rörde oss: även idag, genom Sakramenten, rör Han oss.
2013-04-24 - Låt oss hålla vår tro levande genom bönen och genom sakramenten: låt oss vara vaksamma så att vi inte glömmer Gud.