Hem
News
Påvens kallelsen till helighet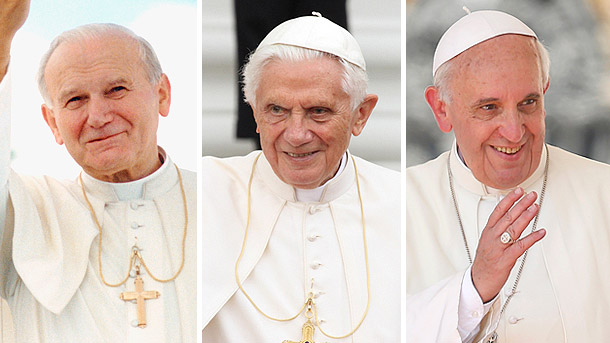 Helige Johannes Paulus II
Holiness is not a question of age. (WYD 2002 in Toronto)
Do not be afraid to be the saints of the new millennium!

(WYD 2000 in Rome)
"Dare to be saints!

"
Christ calls us to holiness (1985-03-31)
Påven Benediktus XVI
"Dare to be glowing saints!"

(2011-09-24)
Meeting with the candidates for Confirmation in Milan

(2012-06-02)
Påven Franciskus
Like Mother Teresa, may we open up opportunities of joy and hope for the many who are discouraged and need understanding and tenderness
. (
@Pontifex:
2017-09-05)
Today we give glory to God for the work of Saint Dominic in the service of the Gospel which he preached with his words and his life. (
@Pontifex:
2017-08-08)
Like Saint Ignatius of Loyola, let us be won over by the Lord Jesus and, led by Him, place ourselves at the service of others
. (
@Pontifex:
2017-07-31)
Helgonen, hoppets vittnen: "Man kan vara helgon i vardagslivet"
(Katekes 2017-06-21 - YOUCAT 342)
The Church needs everyday saints, those of ordinary life carried out with coherence

. (

@Pontifex:

2017-06-07)
Today we remember Blessed Charles de Foucauld who said, faith calls us to see Jesus in every human being. (
@Pontifex:
2016-12-01)
On this feast of Saint Andrew, with fraternal affection I am close to Patriarch Bartholomew and pray for him and the Church entrusted to him. (
@Pontifex:
2016-11-30)
The saints have found the secret of authentic happiness, which lies deep within the soul and has its source in the love of God. (
@Pontifex:
2016-11-01)
"Do not be afraid! Open wide the doors for Christ!" – Saint John Paul II, 22 October 1978. (
@Pontifex:
2016-10-22)
Holiness is to live by being loving and offering our Christian witness in our everyday lives. (
@Pontifex:
2016-10-19)
Let us go forward with courage on the path to holiness! (
@Pontifex:
2016-10-16)
Let us carry Mother Teresa's smile in our hearts and give it to those whom we meet along our journey
. (
@Pontifex:
2016-09-04)
Let us imitate Mother Teresa who made works of mercy the guide of her life and the path towards holiness. (
@Pontifex:
2016-09-03)
May a powerful gust of holiness sweep through all the Americas during the Extraordinary Jubilee of Mercy! (
@Pontifex:
2016-08-27)
Elisabeth Hesselblad helgonförklarades av påven Franciskus.
(Predikan under en högtidlig mässa på Petersplatsen: 5 juni 2016)
The Saints are not supermen, nor were they born perfect. When they recognized God's love, they followed it and served others. (
@Pontifex:
2016-06-05)
Helighet är mod, hopp, nåd och omvändelse.
(Predikan i morgonmässan i Sankta Maras kapell: 24 maj 2016)
The Jubilee is a year-long celebration, in which every moment becomes a chance for us to grow in holiness. (
@Pontifex:
2016-04-06)
The time has come for new messengers of Christ, ever more generous, more joyful and more holy. (
@Pontifex:
2015-11-30)
Uganda has experienced the witness of Christian martyrs. May they help us spread the joy of the Gospel without fear. (
@Pontifex:
2015-11-28)
Saint Joseph Vaz, teach us to grow in holiness and to live the Gospel's message of mercy. (

@Pontifex:

2015-01-14)
Helighet i vardagen
(Katekes 2014-11-19 - YOUCAT 342)
The martyrs teach us that wealth, prestige and honor have little importance: Christ is the only true treasure. (

@Pontifex:

2014-08-16)
Holiness means giving ourselves in sacrifice every day. And so married life is a tremendous path to sanctity! (

@Pontifex:

2014-05-09)
To be a saint is not a luxury. It is necessary for the salvation of the world.

(2014-02-23 Predikan)
"Sluta skvallra och du är på god väg mot helighet"
(2014-02-16 Angelus)
Holiness doesn't mean doing extraordinary things, but doing ordinary things with love and faith. (

@Pontifex:

2013-12-05)
The Kingdom of Heaven is for those who place their trust in the love of God, not in material possessions. (

@Pontifex:

2013-11-22)
To be saints is not a privilege for the few, but a vocation for everyone. (

@Pontifex:

2013-11-21)
The Saints were not superhuman. They were people who loved God in their hearts, and who shared this joy with others.
(

@Pontifex:

2013-11-19)
Helgonen tillhör Gud helt och hållet. De är inte rädda för att bli hånade, missförstådda och åsidosatta. (@Pontifex:

2013-11-07)
"Jag tror på Gud": Kyrkan är helig

(Katekes 2013-10-02)
Prayer, humility, and charity toward all are essential in the Christian life: they are the way to holiness. (

@Pontifex:

2013-07-16)