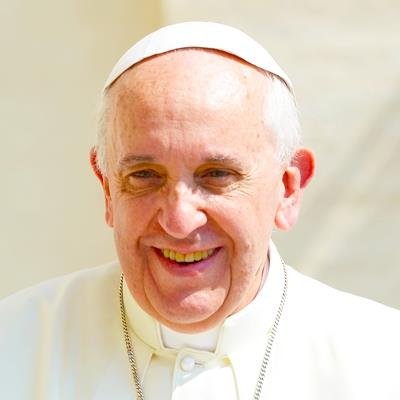 2019-02-01 - May the Lord give us the grace of memory and of hope, in order to go forward with perseverance on the journey of our life. #SantaMarta
2018-11-03 - God is faithful and our hope in Him is like a fixed anchor in heaven.
2018-10-23 - Hope is not an idea, it is an encounter; like the woman waiting to meet the child who will be born from her womb. #SantaMarta
2018-09-29 - St Michael, help us to fight for our salvation. St Gabriel, bring us the Good News that gives hope. St Raphael, protect us on our journey.
2018-09-23 - Let us offer our lives in service and in joy, to make known to everyone that Jesus Christ is our only hope!
2018-03-17 - esus made Himself like the grain of wheat that falls to the ground and dies to give life. Our hope springs from that love-filled life.
2018-02-28 - We can support one another, and face every kind of challenge with courage and hope, when we draw our strength from Jesus.
2017-11-05 - Christ was victorious over death. He is our resurrection and our life. Be witnesses to this message of hope.
2017-11-04 - The Church needs faithful people who proclaim the Gospel with enthusiasm and wisdom, instilling hope and faith.
2017-10-10 - God does not disappoint! He has placed hope in our hearts so that it can blossom and bear fruit.
2017-09-23 - If we are faithful to Christ and do good works, we can spread the light of God's hope.
2017-09-20 - Hope is the virtue of a heart that does not close itself in darkness or remain locked in the past, but looks towards the future.
2017-09-14 - In the Cross our hope is reborn. Hope born of the Cross is different from that of the world, because it is born of the love of Jesus.
2017-09-08 - Reconciliation is consolidated by the contribution of all. It enables us to build the future and makes hope grow.
2017-08-24 - Humanity needs hope in order to live and needs the Holy Spirit in order to hope.
2017-08-06 - Hope is the virtue of a heart that doesn't lock itself into darkness, that doesn't dwell on the past, but is able to see a tomorrow.
2017-06-30 - There is great need to feed Christian hope, which gives us a new view capable of discovering and seeing the good.
2017-05-17 - Our hope is the Lord Jesus whom we recognize as living and present in us and in our brothers and sisters.
2017-04-06 - Hope helps believers to be open to the surprises God has in store for us.
2017-04-03 - Lent is, by nature, a time of hope because it leads us to be born anew "of the spirit", by the love of God.
2017-03-22 - Even if we may be men and women of little faith, the Lord saves us. We must always have hope in the Lord!
2017-02-09 - Hope opens new horizons and enables us to dream of what is not even imaginable.
2017-01-26 - Hope lets new life blossom, like a plant that grows from the seed fallen on the earth.
2017-01-23 - "Be not afraid, for I am with you". Let us communicate hope and trust in our time!
2016-12-27 - Christmas has above all a taste of hope because, for all the darkness in our lives, God's light shines forth.
2016-12-06 - Jesus gives meaning to my life here on earth and hope for the life to come.
2016-12-04 - Advent is a time to prepare our hearts to receive Christ, our Saviour and hope.
2016-10-10 - Punishment should necessarily include hope!
2016-05-28 - Remain steadfast in the journey of faith, with firm hope in the Lord. This is the secret of our journey!
2016-05-17 - The world needs the courage, hope, faith and perseverance of Christ's followers.
2016-04-27 - Christian hope is a gift that God gives us if we come out of ourselves and open our hearts to him.
2016-04-03 - Mercy: the bridge that connects God and man, opening our hearts to the hope of being loved forever despite our sinfulness.
2016-03-25 - Impress, Lord, in our hearts the sentiments of faith, hope, love and sorrow for our sins.
2016-02-18 - I have felt welcomed and received with affection and hope by the Mexican people. Thank you for opening the doors to your lives.
2016-02-17 - You have asked me for a word of hope: what I have to offer you has a name: Jesus Christ.
2016-02-13 - Mexico has a young face. This makes it possible to contemplate and plan for a future, for a tomorrow. This offers hope.
2016-01-19 - The Gospel calls us to be close to the poor and forgotten, and to give them real hope.
2015-12-19 - Mercy is the path uniting God with man, for it opens the heart to the hope of an eternal love (MV 2).
2015-11-29 - I come to the Central African Republic as a pilgrim of peace and as an apostle of hope.
2015-11-28 - I have great hope for Africa, and for the harvest of grace that the Lord is preparing in your midst.
2015-07-17 - When everything falls apart, only one thing sustains our hope: God loves us, he loves everyone!
2015-04-30 - Amid so many problems, even grave, may we not lose our hope in the infinite mercy of God.