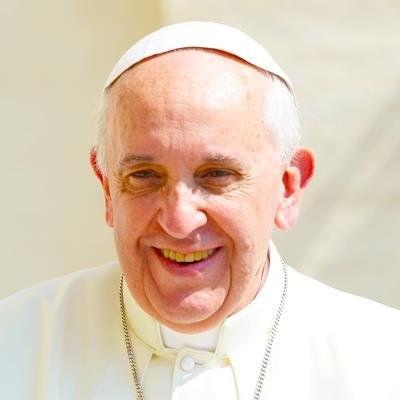 23.03.2020 - The first requirement for prayer is faith, the second is perseverance, and the third is courage. In these days when we need to pray more, let us ask ourselves if we pray like this. The Lord never deludes! He makes us wait, but He never deludes.
06.12.2019 - Prayer is the door of faith; prayer is medicine for the heart.
24.11.2019 - I ask you to join in praying each day for the conversion of hearts and for the triumph of a culture of life, reconciliation and fraternity. #EndNuclearWeapons #Nagasaki #ApostolicJourney
22.11.2019 - Without prayer, our life and mission loses all its meaning, strength and fervor. #ApostolicJourney
09.11.2019 - Prayer always arouses feelings of fraternity, it breaks down barriers, crosses borders, creates invisible but real and effective bridges, and opens horizons of hope.
28.10.2019 - In these last days of October, I invite you to pray the #HolyRosary for the mission of the Church today, especially for men and women missionaries who encounter the greatest difficulties. #MissionaryOctober
12.10.2019 - Let us pray for our communities, that by giving witness to the joy of Christian life, they may see a flowering of the call to holiness.
16.09.2019 - St Paul asks us to pray "for all in authority" (1 Tim 2:2). We must learn to do this, even for politicians with whom we disagree. Christians must pray for all people in government, that they may work for the common good. #SantaMarta
02.09.2019 - Creation, a place of encounter with the Lord and one another, is "God's own social network", which inspires us to raise a song of cosmic praise to the Creator.
01.09.2019 - Now is the time to rediscover our vocation as children of God, brothers and sisters, and stewards of creation. In this #SeasonOfCreation, I invite everyone to dedicate themselves to prayer.
28.07.2019 - In today's Gospel, Jesus invites us to experience prayer, putting us in direct communication with the Father. This is the novelty of Christian prayer! It is a dialogue between people who love one another, a dialogue based on trust.
28.06.2019 - Pray for all Priests and for my Petrine Ministry, that every pastoral action may be sealed with the love that Christ has for every person. #SanctificationOfPriests
26.06.2019 - How many times, in prayer, do we limit ourselves to asking for gifts and listing requests, forgetting that the first thing we should do is praise God's name, adore Him, and then go on to acknowledge His living image in our brothers and sisters.
04.04.2019 - When we pray, let us recall that we do so with Jesus. Jesus is our courage. Jesus is our security, who in this moment intercedes for us. #SantaMarta
03.04.2019 - Through prayer we learn to renounce the idolatry and self-sufficiency of our ego, and to admit we need the Lord and His mercy. #Lent
25.03.2019 - Today we remember in prayer the victims of modern forms of #slavery. Their suffering impels us to fight against these inhuman scourges. #RememberSlavery
04.03.2019 - Prayer gives consistency and vitality to everything we do
01.03.2019 - In order to pray well, we need to have the heart of a child.
06.02.2019 - This Visit to the United Arab Emirates belongs to the "surprises" of God. So let us praise Him and His providence, and pray that the seeds sown may bring forth fruits of peace. #ApostolicJourney #UAE
04.02.2019 - Prayer purifies the heart from turning in on itself. Prayer of the heart restores fraternity. #UAE #ApostolicJourney
19.01.2019 - Prayer from a humble heart is heard by God.
18.01.2019 - Today marks the beginning of the Week of Prayer for Christian Unity: all of us are asked to implore from God this great gift.
11.01.2019 - The first step in prayer is to be humble, go to the Father and say: "Look at me, I am a sinner." And the Lord listens.
13.12.2018 - Even when we pray alone, we pray together with all the people of God.
15.11.2018 - "The Kingdom of God is in your midst." It is not spectacular. It grows in silence, in hiding, through witness, prayer, and the attraction of the Spirit. #SantaMarta
12.11.2018 - Let us pray today for bishops so that they may always be what Saint Paul calls them to be: humble, gentle, servants. #SantaMarta
07.11.2018 - Praying means knocking at the door of a friend. God is our friend.
06.11.2018 - Let us commit ourselves with prayer and action to distance our hearts, our words and our deeds from all violence in order to take care of our common home.
11.10.2018 - Praying is not like using a magic wand. Prayer requires commitment, constancy and determination. #SantaMarta
09.10.2018 - Spend time before the Lord in contemplation, and do everything possible for the Lord at the service of others. Contemplation and service: this is our path of life. #SantaMarta
29.08.2018 - To pray is the first missionary task of every Christian. It is also the most effective.
31.07.2018 - Before helping others, we need to have a personal encounter with God: we need time to pray and to listen to His Word.
24.07.2018 - Prayer is never in vain: it always brings forth something new that, sooner or later, bears fruit.
13.06.2018 - Never tire of encountering Jesus in prayer, in listening to the Word of God, and in receiving the Eucharist.
08.06.2018 - Let us ask the Lord to give us good priests: hardworking men, men of prayer, who are close to God's people.
02.06.2018 - Seek the Lord in prayer: He is the one who has called you.
02.05.2018 - Praying means being with God, experiencing God, loving God.
12.04.2018 - Saints are distinguished by a spirit of prayer and a need for communion with God. There is no holiness without prayer. #Holiness
10.03.2018 - If we dedicate more time to prayer, our hearts will reveal the lies with which we deceive ourselves, and we will find true consolation in God.
09.03.2018 - With so much to do, we often neglect what is really important: our spiritual lives, and our relationship with God. So let's stop and take time to pray!
29.01.2018 - Through prayer we can enter into a stable relationship with God, the source of true joy.
25.01.2018 - Prayer allows us to see one another the way God our Father sees us, and to realize that we are brothers and sisters.
23.01.2018 - Prayer that purifies, strengthens and illuminates our path is like fuel for our journey towards full Christian unity.
09.01.2018 - A joyful soul is like healthy soil in which life can thrive and produce good fruit.
08.01.2018 - Joy, prayer and gratitude are three ways that help us live authentically.
28.12.2017 - Today we pray for all the children who are not allowed to be born, who cry with hunger, who hold weapons in their hands instead of toys.
26.12.2017 - Today we want to remember all those who suffer persecution. We want to be close to them with our affection and our prayers.
19.12.2017 - Go out to meet Jesus, spend time with Him in prayer, and entrust your whole life to His merciful love.
18.11.2017 - Without the support of the prayers of the faithful, the Successor of Peter cannot fulfill his mission in the world. I am counting on you too!.
11.11.2017 - Let us remember in our prayers all those who, with dedication and spirit of sacrifice, care for those who are ill.
03.11.2017 - When we pray, we need to have the courage of faith. Have trust that the Lord hears us!
30.10.2017 - Learn from wonder; nurture astonishment. Live, love, believe. And, with the grace of God, never despair.
29.10.2017 - I invite you to keep your eyes fixed on Jesus Christ in order to learn from Him how to love with all your heart.
28.10.2017 - Remember the sufferings of every person in your heart. Then bring them all to God in your prayers.
23.10.2017 - Jesus gave us the light which shines in the darkness. Defend and protect this light: it is the greatest treasure entrusted to you.
20.10.2017 - Let us bring the flame of Christ's love to humanity which needs true happiness and peace so much.
07.10.2017 - The Rosary is a synthesis of the mysteries of Christ: we contemplate them with Mary, who allows us to see with her eyes of faith and love.
03.10.2017 - Only in the silence of prayer can you learn to listen to the voice of God.
14.06.2017 - There is much need of prayer and penitence to implore the grace of conversion and an end to the many wars throughout the world.
30.03.2017 - Prayer is powerful. Prayer conquers evil. Prayer brings peace.
14.03.2017 - Let us pray for one another so that we may open our doors to the weak and poor.
28.02.2017 - Prayer is the key that opens God's merciful heart.
26.02.2017 - I invite you to persevere in prayer, so that Jesus' wish may be fulfilled: "that they may all be one".
03.02.2017 - Let us never forget to pray for each another. Prayer is our greatest strength.
30.01.2017 - Nothing is impossible if we turn to God in prayer. We can all be builders of peace.
21.11.2016 - Let us remember with gratitude the cloistered and monastic religious who pray for the Church and the world.
15.10.2016 - Today St Teresa of Ávila invites us to pray more in order to be closer to God and to improve our lives.
07.10.2016 - The Rosary is a prayer which always accompanies me. It's also the prayer of ordinary people and the saints...and a prayer from my heart.
28.08.2016 - An easy prayer to say every day: "Lord, I am a sinner: come with your mercy".
18.08.2016 - Never abbandon prayer, even when it seems pointless to pray.
17.06.2016 - In prayer let us experience the compassion of God, full of merciful love.
11.06.2016 - Do not tire of asking in prayer for the Lord's help especially in difficulty.
16.02.2016 - We learn how to pray, just as we do to walk, speak and listen. If you tell me how you pray, I can tell you how you live.
15.11.2015 - I am happy to pray today with the Lutheran community in Rome. May God bless all who work for dialogue and Christian unity.
28.02.2015 - Jesus intercedes for us each day. Let us pray: Lord, have mercy on me; intercede for me!
26.12.2014 - Let us pray today for all those who are persecuted for their Christian faith.
04.10.2014 - As Jesus told Martha in the Gospel, one thing is necessary: prayer.
10.08.2014 - An appeal to all families: when you say your prayers, remember all those forced from their homes in Iraq.
31.07.2014 - May each family rediscover family prayer, which helps to bring about mutual understanding and forgiveness.
28.06.2014 - To be friends with God means to pray with simplicity, like children talking to their parents.
07.06.2014 - Prayer is all-powerful. Let us use it to bring peace to the Middle East and peace to the world.
06.06.2014 - Peace is a gift of God, but requires our efforts. Let us be people of peace in prayer and deed!
19.05.2014 - The one who listens attentively to the Word of God and truly prays, always asks the Lord: what is your will for me?
17.05.2014 - The month of May, dedicated to Mary, is a fitting time to begin to recite the rosary daily.
01.04.2014 - Dear parents, teach your children to pray. Pray with them!
06.03.2014 - Let us pray for Christians who are victims of persecution, so that they may know how to respond to evil with good.
18.02.2014 - Let us learn from Christ how to pray, to forgive, to sow peace, and to be near those in need.
15.02.2014 - Let us pray for peace in Africa, especially in the Central African Republic and in South Sudan.
13.02.2014 - Let us pray for seminarians, that they may listen to the voice of the Lord and follow it with courage and joy.
28.01.2014 - Let us pray for Christian unity. There are so many beautiful things which unite us!
17.01.2014 - How powerful prayer is! May we never lose the courage to say: Lord, give us your peace.
16.01.2014 - Let us pray for peace, and let us bring it about, starting in our own homes!
26.12.2013 - Before the Nativity scene, may we pray in a particular way for those suffering persecution for the faith.
16.12.2013 - We cannot resign ourselves to think of a Middle East without Christians. Let us pray every day for peace.
13.12.2013 - Don't be afraid to go to the Sacrament of Confession, where you will meet Jesus who forgives you.
02.11.2013 - The fight against evil is long and difficult. It is essential to pray constantly and to be patient.
17.10.2013 - Our prayer cannot be reduced to an hour on Sundays. It is important to have a daily relationship with the Lord.
10.10.2013 - The mystery of the Cross, a mystery of love, can only be understood in prayer. Pray and weep, kneeling before the Cross.
01.10.2013 - Do we truly pray? Without an abiding relationship with God, it is difficult to live an authentic and consistent Christian life.
20.09.2013 - Christ is always faithful. Let us pray to be always faithful to him.
10.09.2013 - I thank everyone who participated in the prayer vigil and the fast for peace.
01.09.2013 - Let us pray for peace: peace in the world and in each of our hearts.
27.07.2013 - Dear young friends, learn to pray every day: this is the way to know Jesus and invite him into your lives.
25.07.2013 - The Christian life is not limited to prayer, but requires an ongoing dedication and courage born of prayer.
21.07.2013 - How many wish to be in Rio for WYD but can't! May they feel at one with us in prayer.
16.07.2013 - Prayer, humility, and charity toward all are essential in the Christian life: they are the way to holiness.
08.07.2013 - We pray for a heart which will embrace immigrants. God will judge us upon how we have treated the most needy.
06.07.2013 - The Lord speaks to us through the Scriptures and in our prayer. Let us learn to keep silence before him, as we meditate upon the Gospel.